I am a big fan of modern technology! Did you know they actually make real stainless steel dishwashers that are only 17 inches tall? When I saw that there were small dishwashers that I could fit into my travel trailer, I knew I would have to get one! They will fit into virtually any RV, Camper or Travel Trailer.
This is the one I got and I'm going to show you how I installed it.
I got it at Walmart so that I could
easily return it if there were any problems
and they had the
best price
! Before you automatically order from Amazon, you might want to check Walmart. They have free shipping on almost everything, (you don't have to pay $100 a year for it!) and you can pick it up at the store if you don't want to ship it. They pay more taxes and employ more people than Amazon. It's easy to return things, and often it's the best price. So instead of automatically ordering from Amazon, check Walmart you might be surprised!
Both Amazon and Walmart have quite a few different dishwashers to choose from. They all seem to have good ratings. I really like my Midea dishwasher, and their customer service is great. I had some questions and they answered within 12 hours.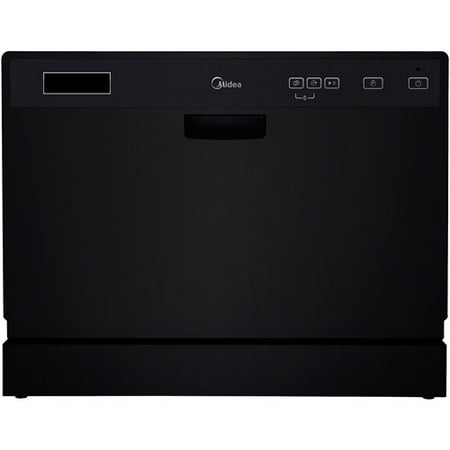 Here is a highly rated one from Amazon
if you really want to get it
there.
Originally
, I thought I would install it under the bed. However, when I looked into it further I saw that I would have to move the water tank, and practically rebuild the pass-through storage so that wasn't happening. I have never been a fan of our little gas stove, so that was the obvious solution. I removed the two burner stove which we never ever use and replaced it with a platform to hold the dishwasher.
I know I said this was a tutorial, but basically put it on your counter, plug it in attach it to your faucet, add soap and turn everything on.
Here is how it attaches to the sink. The hoses store behind the dishwasher. They are permanently attached, although you should check them periodically for loosening up.
The space between the countertop and the upper cabinets was 24 in. The dishwasher is just a little over 17 in hi. This meant I had 7 inches to build some good storage. I decided to leave it as a portable unit so that I can easily remove it when I winterize the travel trailer.
I added a pull out countertop that replaces the countertop that I lost. There's also a 23 inch by 24 inch drawer that I can't wait to fill up!! Finally a good space for plastic wrap LOL
I have used the dishwasher for over a year and it's absolutely wonderful. There are different styles and Brands, they all seem to be good. My sister has a white Magic Chef, also sold at Walmart. One note if you do purchase from Walmart, make sure that it is actually sold by Walmart and not a third party. It is difficult to return items to a third party. But if it's sold by Walmart you can bring it back to any Walmart store in the country.
I think it is a fantastic trade! We never used that gas stove and now no more dishes in the sink and no more sore, dry hands!

Can't wait to actually get on the road and spend a couple months in our tiny travel trailer.